Happy Death Day (2017)
November 14, 2017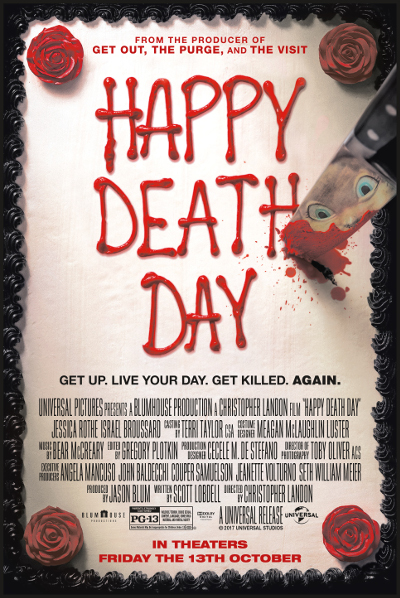 Starring: Jessica Rothe, Israel Broussard
Director: Christopher Landon (Paranormal Activity: The Marked Ones)
Bottom Line: Hip-hop legend Nas once made a song titled "No Idea's Original" and Happy Death Day is born from that notion, essentially stealing its entire concept from the 1993 classic comedy Groundhog Day in which Bill Murray's character keeps reliving the same day over and over. Happy Death Day is Groundhog Day with a horror twist – the protagonist keeps waking up on the same day that she is murdered by a masked killer and has to solve the mystery in order to escape the time loop.
I was so close to loving this movie. Oh so close. And then a questionable ending brought it down a notch.
Jessica Rothe does a great job as Tree, an ungrateful and selfish sorority sister that undergoes an impressive transformation as the repeated experience makes her realize what a bad person she is. It's quite the star-making turn as Rothe is a very convincing jerk before becoming unbelievably charming. I really enjoyed watching this character's growth and Rothe embodies the role perfectly. She reminds me of a cross between Blake Lively and Emma Roberts, but I've never seen either of those actresses do as fine a job as Rothe does here.
The writing in this movie was very good. Tree reacts very believably to her situation and watching her try to solve her murder and go through the different emotional phases of her plight – from confusion to scared to gung ho to exasperation – is really a delight. The script is also very funny and the humor really helps the flow of the film.
Happy Death Day isn't very scary, but it's definitely enjoyable, funny, and was overall satisfying, even if the ending sort of let me down a little. It was very close to being a must watch for horror fans, but I'll just give it a strong recommendation instead.
Replay Value: I would happily watch this again. Knowing the answer to "who is the killer?" question would make a second viewing pretty fun.
Sequel Potential: It really doesn't seem like there could or should be a sequel, but apparently the director has been quoted as saying he has plans for a second movie. That seems like a bad idea to me.
Oscar Potential: None.
Grade: 7 (Highly Enjoyable)