Black Panther (2018)
March 1, 2018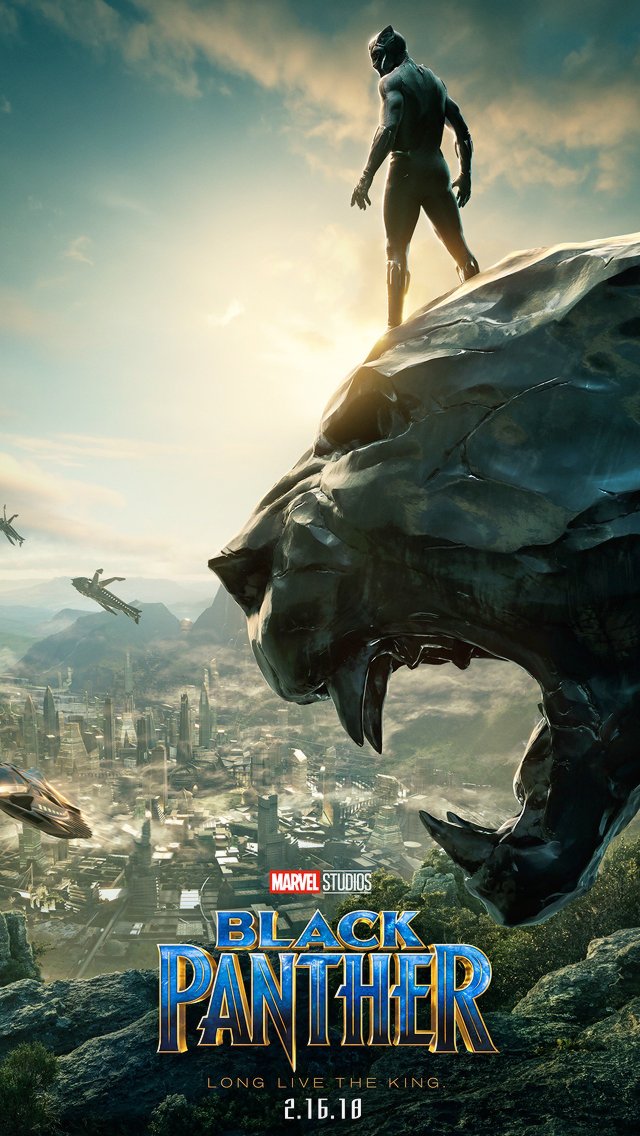 Directed by: Ryan Coogler (Creed, Fruitvale Station)
Starring: Chadwick Boseman, Michael B. Jordan, Lupita Nyong'o, Letitia Wright, Daniel Kaluuya, Martin Freeman
Thoughts: What a huge movie. An absolute colossal success and a groundbreaking film in terms of showing that an almost entirely black cast can produce monster box office numbers. Ugh. I hate typing that sentence. I shouldn't have to. But one can't ignore the fact that this sort of opportunity has been sorely lacking in the past and Black Panther will surely open doors and possibly knock them completely off the hinges.
Ryan Coogler and his team really did a wonderful job creating this film. The fictional nation of Wakanda is stunning and fully realized and does as much for empowering women as it does for black people. In Wakanda, women are the fiercest warriors and protectors of the realm, and T'Challa's sister is the head engineer in advanced weaponry and gadgetry. There's been some buzz in the industry the last few years about casting a black James Bond, and Black Panther has a lot of 007 in it.
The main conflict in the film is that Michael B. Jordan's Erik Killmonger believes that he has a claim to the throne in Wakanda and challenges T'Challa. Killmonger's motives and backstory provide some conflict in the viewers as he's a rare villain that you can possibly sympathize with.
The cast in this movie does a brilliant job, with Jordan being the highlight and Lupita Nyong'o and Letitia Wright also giving strong and fun performances.
Black Panther is a film that fires on all cylinders and provides a thoroughly entertaining film experience. It's definitely a crowd-pleaser. I had a blast watching it and I hope it's just as much fun over multiple viewings. I can confidently say Black Panther ranks in the upper echelon in the Marvel Cinematic Universe – possibly as high as #1 – and the presentation of Wakanda and the film's groundbreaking nature make it a must see in my book.
Replay Value: If I didn't have so many other movies to watch before the Oscars, I would have seen this again by now. I'm looking forward to a second viewing and I suspect it will hold up pretty well. It is a film I will want to own.
Sequel Potential: The film's success will certainly fast-track a sequel. I wouldn't be surprised to see it released in 2020. T'Challa should be playing a significant role in the upcoming Avengers: Infinity War films.
Oscar Potential: I called multiple nominations for Get Out at this time last year and I was right on most of them. I feel less confident in Black Panther's chances. This film's strongest cases are probably in the Production Design, Costumes, Visual Effects, and Sound departments. Michael B. Jordan has already got some Supporting Actor buzz, but he probably won't get a nomination.
*Dina Meter: My wife would have enjoyed this movie.
8/10 (Must See)
*I'm adding a new element to my movie reviews. I don't expect everyone to have the same taste as me. Someone asked what my favorite movies of 2017 were and my first response was The Shape of Water and the person I was talking to said he hated it. My friend I saw it with didn't like it much either. I feel like my wife is a pretty good measure of what a casual filmgoer will like or not like. She tends to not enjoy the more obscure films that I like. With that in mind, I'm implementing the Dina Meter, where I will sum up what she thought about a movie or what I think she would have thought if we didn't watch it together.
One comment