Ready Player One (2018)
April 3, 2018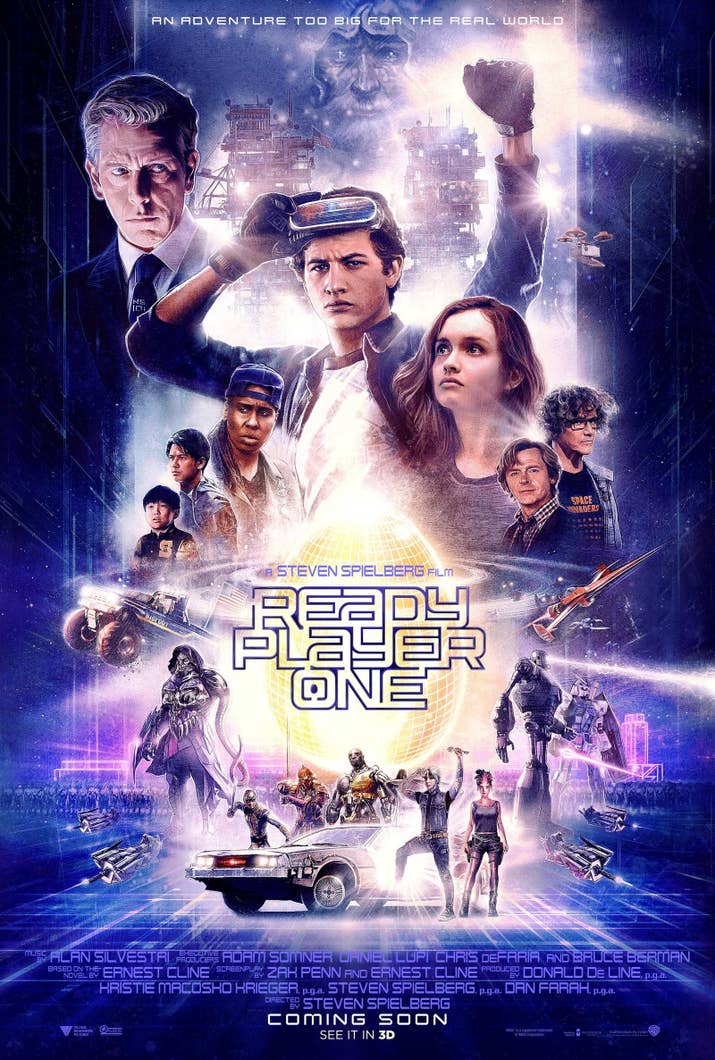 Directed by: Steven Spielberg (E.T., Indiana Jones, Jurassic Park, Jaws)
Starring: Tye Sheridan, Olivia Cooke, Ben Mendelsohn, Mark Rylance, Lena Waithe, T.J. Miller, Simon Pegg
This movie was a lot of fun.
It takes place in the year 2045, when most of the world spends their free time in a virtual reality world called OASIS, where players can go anywhere they want and do anything they want (i.e. climb Mount Everest with Batman!). Because of the limitless possibilities, filmgoers will be in for loads of nostalgia as popular 80s and 90s pop culture icons are common choices for the gamers' avatars. In the first 10 minutes or so, I saw Freddy Krueger, Batman, and Jason Vorhees – and the references never stop. This movie is littered with them and there's no way you'll be able catch them all on your first viewing. Plus, there's a sequence in the movie that pays homage to Stanley Kubrick that is utterly fantastic.
The gist of the plot revolves around the creator of OASIS passing away and leaving behind a number of Easter eggs and keys for players to search for with the final prize being complete control of OASIS. There's definitely a bit of a Willy Wonka thing going on here. We are introduced to a group of ragtag gamers that quickly become the favorites in the contest and they are in a race against the big bad corporation IOI to the finish line for control of OASIS.
Most of Steven Spielberg's action-adventure film takes place in OASIS and is computer animated and we see the film's heroes as their avatars much more frequently than we see the human actors. This is probably a good thing. Tye Sheridan plays Wade/Parzival, the film's main hero, and his time spent as Parzival (his avatar) was much more interesting than when the film focused on his human life. Sheridan doesn't do a bad job here, but his performance is missing something that I'm having a hard time putting a finger on. Wonder? Life? I dunno, I just thought he was a little on the dull side and kept thinking they should have found someone better. The supporting cast is much better. Olivia Cooke is fun and sexy as both Art3mis and Samantha. T.J. Miller does some funny voicework playing a scary and formidable-looking avatar but giving the character a self-conscious and silly tone. Ben Mendelsohn checks in with his standard slimy bad guy role as the head of IOI and does some of his best work to date.
The animation in this movie is spectacular and I imagine that Spielberg's crew is in line for some Oscar attention. Ready Player One certainly works best when we are in OASIS and taking in the action from that point of view, which is kind of ironic because there's definitely a message in this film that we need to be less "plugged in" and more in tune to the real world.
One thing about Ready Player One that I either missed or didn't fully grasp was the role of IOI. I know the corporation is technically the bad guy, but I didn't understand what the real world consequences were if they won the contest or how they became a known evil empire that is somehow allowed to operate unchecked by any sort of political authority or law enforcement. I remember there was a scene where actual police officers show up in the real world and I was like "wait… what?" And what exactly does the company do? Help women get pregnant? Maybe a second viewing answers these questions for me, but a movie can't be truly great if you finish it and you're not sure why the bad guy was the bad guy.
Still, Steven Spielberg can tally up another successful adventure film full of spectacle. The director has a long history of making these types of films and leaving us with an all-time classic. Ready Player One doesn't reach those heights, mainly because of an average lead actor and unclear consequences, but it was still very enjoyable – especially considering it clocks in at almost 2.5 hours – and the film is visually great and the nostalgia factor enhances the fun. Hard to imagine anyone being too disappointed with this movie – it checks most of the boxes – and it gets a solid recommendation from me.
Replay Value: I did not watch this in 3D and I wonder if that was a mistake. It seems like the kind of movie you would definitely want to see in 3D. That might make it worth seeing again in theaters. I would watch it again regardless though.
Sequel Potential: This was based on a book and I'm not sure if there are more novels in the same world, but it's easy to imagine how they could continue this story.
Oscar Potential: Seems like a cinch for a Visual Effects nomination and could get some editing and sound love. I wouldn't be surprised to see it up for Best Score. I wonder if it will qualify for Best Animated Feature. If so, that could be a nomination, but it wasn't strong enough to get Best Pic or Best Director nods.
Dina Meter: I think Dina would like the spirit of this movie, but because of the animation and the fast and furious action, she might not be able to handle it. She doesn't do rollercoasters, 4D rides, or watch movies in 3D because she gets motion sickness, so Ready Player One might be too much for her – even without the 3D.
7/10 (Highly Enjoyable)