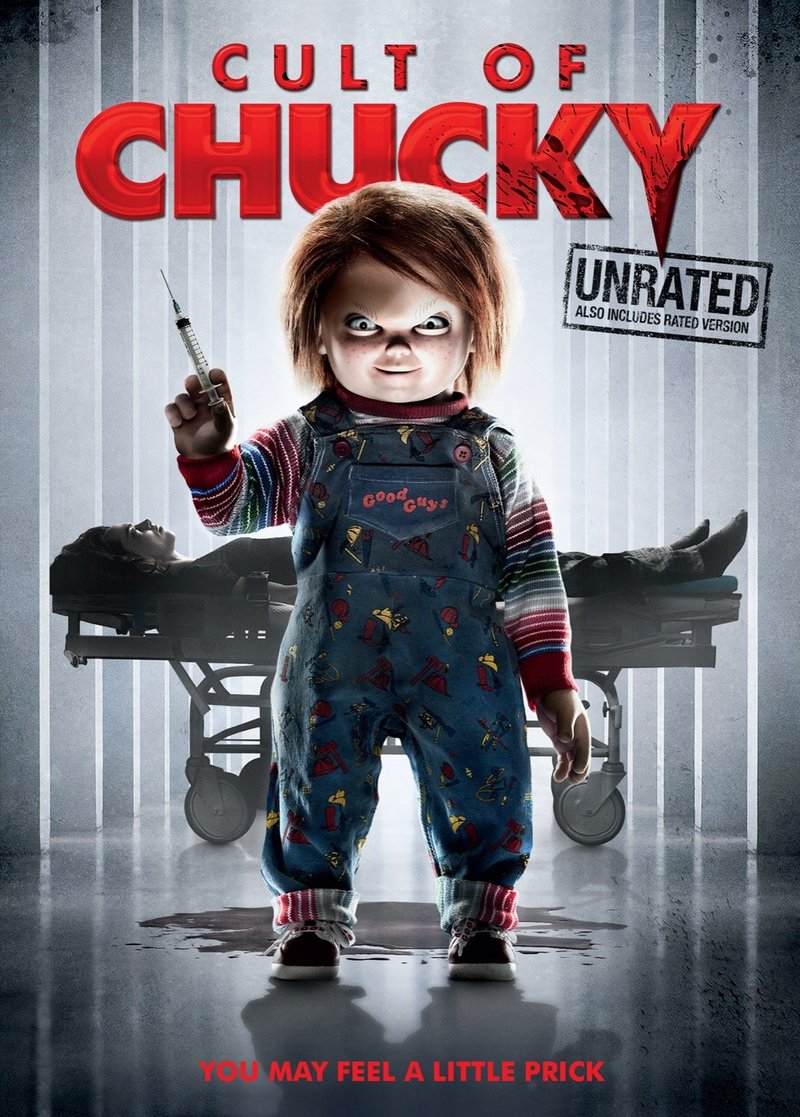 Starring: Fiona Dourif, Alex Vincent, Brad Dourif (voice of Chucky)
Director: Don Mancini (Curse of Chucky, Seed of Chucky)
Bottom Line: It seems unlikely that the most relevant classic horror franchise in the mid-2010s is Child's Play, but with A Nightmare On Elm Street and Friday the 13th both failing to reboot and 8 years since the last Halloween entry, Chucky's second straight-to-video appearance in the past five years has the Don Mancini killer doll as the freshest old school slasher icon.
I'm definitely a fan of the series and I even went on to call 2013's The Curse of Chucky possibly "the best Chucky film to date," but having revisited that film this past year, I think I may have overrated it. I do have to give credit to director/writer – and creator of the series – Mancini for continually finding new and entertaining directions to take the franchise.
Cult of Chucky continues this trend of reinventing the series while keeping it familiar. Cult picks up where Curse left off, with paraplegic Nica taking the blame for all the murders of the previous film and finding herself in an asylum that will soon be infiltrated by Chucky. It's a bit weird, however, because the post credit scene for Curse showed the killer doll sending himself to the home of original nemesis Andy Barclay and getting his head blown off. In this film, Andy keeps Chucky's head in a safe, where it remains sentient and brings it out periodically to talk to it and occasionally take a blow torch to Chucky's face. Meanwhile, patients at the asylum are dying and Nica continues to be blamed for the deaths, while insisting that "Chucky did it." And while we can see that the doll is present, one has to wonder if Nica's hallucinating and causing the deaths herself, or if Chucky actually can be present while his head is mounted in Andy's safe. Hmmmmm….?
I honestly had mixed feelings about Cult of Chucky. On one hand, I appreciated Mancini's ability to take things in a new direction all while bringing back familiar characters and delivering the gore and comedy we expect in a Chucky movie – and really, the gore in this movie was truly spectacular. The film has some of the franchise's best kills. On the other hand, I found the asylum setting to be a little grating. Between the creepy lead therapist that doesn't believe anything anyone says and one of the patients "mothering" and breast-feeding Chucky, I was kind of like "uhhhh." Also, the return of Alex Vincent as Andy Barclay is a cool idea and his first appearance in this movie is fantastic, but when he becomes immersed in the main story again at the asylum, the payoff is a bit disappointing.
Brad Dourif is always great as the voice of Chucky and he gets some screen time as Charles Lee Ray here as well. Dourif's daughter Fiona plays Nica and while her performance in the last two movies has mostly been average, she does get to steal some scenes towards the end of this film.
Cult of Chucky is obviously a must watch for fans of the series and fans of horror, but I wasn't blown away by any means. Cult has received pretty favorable early reviews from critics and while I enjoyed it myself, much like with The Seed of Chucky, I can't really say I get the accolades. Maybe I will learn to appreciate it more if I ever watch it again, but for now all I can say it is another solid entry in this long-running franchise that always manages to stay inventive instead of regurgitating the same old tropes every time out.
Replay Value: I wouldn't mind revisiting all the films starting with Bride of Chucky at some point in the near future. I'd watch this again.
Sequel Potential: These things never seem to die and this film has a post credit scene that suggests another movie in the future.
Oscar Potential: none.
Grade: 5.5/10 (Watchable)