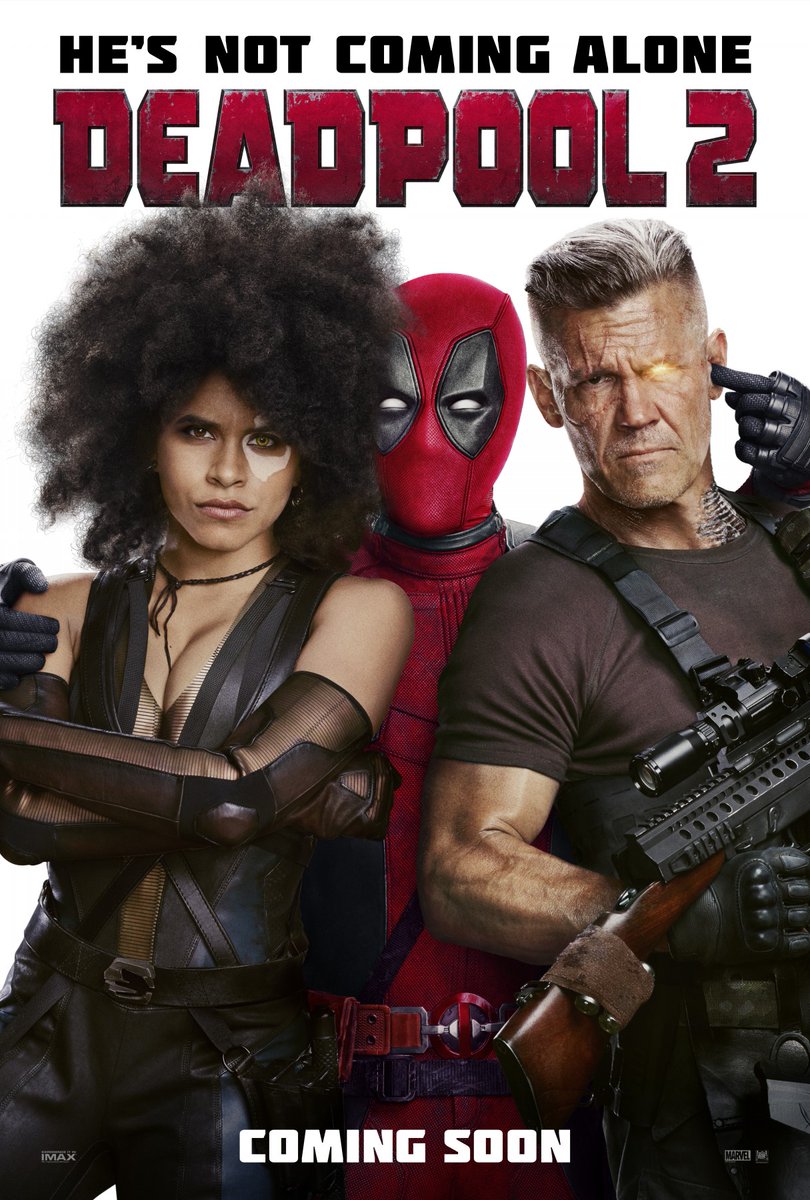 I'm so far behind on movie reviews I'm just pump them all out now before I head to Vegas.
Deadpool 2 (2018) – Lacks the fresh feel of the original, but it's nearly as funny and entertaining. Cable and Domino are great additions, there are some amazing cameos, and Ryan Reynolds is still perfection as Deadpool.
Replay Value: I wouldn't watch it a second time in theaters like I did with the first one, but I'd certainly enjoy a second watch sometime down the road.
Sequel Potential: I see Deadpool 3 and X-Force have been announced, both with Ryan Reynolds attached as Wade Wilson/Deadpool, but no concrete release dates or any other details yet.
Oscar Potential: None.
Dina Meter: Dina seemed to mostly enjoy this.
7/10 (Highly Enjoyable)
Wind River (2017) – A gritty, murder mystery set in chilly Wyoming featuring a great performance from Jeremy Renner, this is a movie I really liked but absolutely need to see again because I was absurdly tired while watching it and don't feel like I appreciated the experience as much as I should have. Writer/Director Taylor Sheridan (Sicario, Hell or High Water) has proven to be quite the brilliant filmmaker.
Replay Value: I want to watch this again immediately.
Sequel Potential: None.
Oscar Potential: Many considered this film one of the biggest snubs of last Oscar season when it got zero nominations.
Dina Meter: I don't think Dina disliked this, but I don't remember her being too into it either.
7/10 (Highly Enjoyable) *I think this might be a Must See but I need to watch it again
Thor: Ragnarok (2017) – Lots of fun. Easily the best Thor movie and one of the funnier Marvel movies to date. Taika Waititi was an inspired choice for director and his comedic touch made this movie substantially better than its predecessors, even as the story dramatically raised the stakes on Asgard. Chris Hemsworth gives his best performance as Thor to date and Cate Blanchett was great as the villainous Hela. The reveal of The Hulk would have been a lot cooler if it wasn't included in the trailers.
Replay Value: The only Thor movie I feel is worth watching more than once.
Sequel Potential: Thor just appeared in Avengers: Infinity War and will be in the next Avengers movie as well, but who knows after that.
Oscar Potential: None.
Dina Meter: She was a fan.
7/10 (Highly Enjoyable)
Good Time (2017) – I gave this one of the most disrespectful watches I've ever given a film. First, I rented this movie and let it sit around my house for nearly four months before finally trying to watch it and then I watched bits and pieces of if over what must have been 6-7 viewings over a two week span. Needless to say, whatever I have to say about it needs to be taken with a grain of salt. The story is about two brothers that rob a bank and wind up separated when the mentally handicapped one of them falls behind and gets arrested and the other one spends the night trying to keep his brother out of Riker's Island prison. It's a pretty grimy movie and the two lead characters aren't likable at all, although Robert Pattinson is terrific in his role. I didn't know he had it in him. The way the score is done reminded me a lot of It Follows – it's jarring and loud and definitely increases the tension of the picture. This movie made it on my radar by appearing on a number of top ten lists and I don't think it was nearly that good, although I can't say I got the full experience either.
Replay Value: Not really something I'd want to see again.
Sequel Potential: None.
Oscar Potential: None.
Dina Meter: No way Dina would make it through this one.
5/10 (Decent)
Amateur (2018) – This was a Netflix movie I decided to watch because it was about basketball. Not much to see here. It's about a junior high phenom that becomes a victim of the dirty politics that can happen when parents and coaches exploit young athletes. None of the performances are noteworthy and there are only a few cool basketball moments. This was a pretty forgettable flick and not even a must see for basketball fans.
Replay Value: Basically zero.
Sequel Potential: I can't imagine.
Oscar Potential: None.
Dina Meter: Dina could probably tolerate this but I can't imagine she'd like it too much.
4/10 (Forgettable)
Super (2010) – Before James Gunn became a household name with Guardians of the Galaxy, he made a very little seen flick called Super. Rainn Wilson stars as a regular guy that decides to become a superhero after his wife starts preferring the company of a drug dealer. This movie has similarities to Kick-Ass in that a regular dude with no powers decides to dress up in a costume and fight crime, but this movie isn't as outlandish and the humor is darker. Ellen Page is a scene stealer as Crimson Bolt's foul-mouthed and absurdly eager sidekick. This movie is certainly worth a watch.
Replay Value: Worth seeing more than once.
Sequel Potential: No sequel yet and unlikely to happen.
Oscar Potential: None.
Dina Meter: I'm honestly not sure about this one.
6/10 (Fun)
Spotlight (2015) – This Best Picture winner might be a bit overrated by the Academy. While I enjoyed this newspaper movie about The Boston Globe uncovering a massive child molestation scandal in the local Catholic Archdiocese, it's actually my least favorite of the seven 2015 Best Picture nominees that I've seen. Rachel McAdams and Michael Keaton give solid performances, but Mark Ruffalo is guilty of some serious over-acting in this movie, yet somehow snagged a Best Supporting Actor nomination. This is a good movie, but not 2015's best film by any measure.
Replay Value: Mostly a single watch type of film.
Sequel Potential: None.
Oscar Potential: Best Picture and Best Original Screenplay winner. Also nominated for Best Film Editing, Tom McCarthy for Best Director and acting nominations for McAdams and Ruffalo.
Dina Meter: We both thought this was good, but not great.
7/10 (Highly Enjoyable)