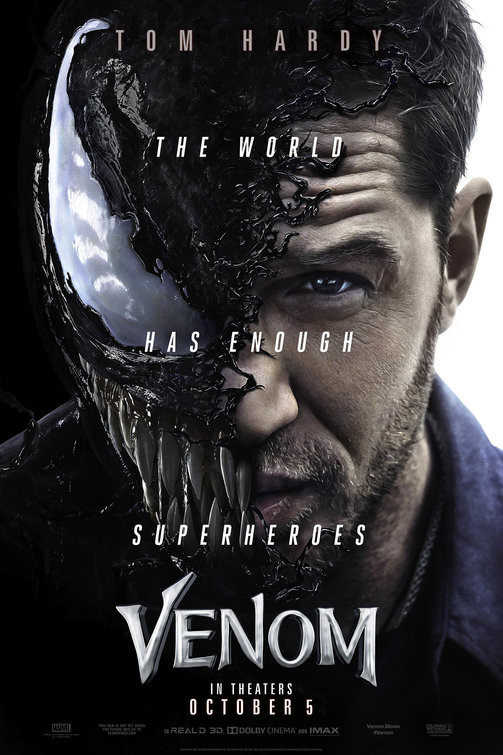 Director: Ruben Fleischer (Gangster Squad, Zombieland)
Starring: Tom Hardy, Michelle Williams, Riz Ahmed
Venom was a mess long before it hit theaters, so I've never really thought it was going to amount to much of anything. This movie has been in production since before the Sam Raimi Spider-Man franchise died and rumors of Spidey-related spinoffs abounded after the series rebooted with Andrew Garfield. So after Disney and Marvel reacquired the film rights to Spider-Man and Sony decided to plow forward with a Venom movie anyway, well, I just didn't see how that could end well.
I actually thought this movie had nothing to do with the current Marvel Cinematic Universe, but after doing some digging it looks like I could be wrong. Maybe? As late as June 2017, Marvel's president Kevin Feige said that Venom is solely a Sony project, but the Sony side of things have claimed that their new universe will be "adjunct" to the MCU and that Tom Holland's Spider-Man may even appear in future films. I'm not an expert Venom historian, so I don't know if it's possible to pull off a Venom movie without Spider-Man and not piss all the fans off, but I imagine DC trying to do a Joker movie without Batman and – wait… that is actually happening.
Then they cast Tom Hardy as Eddie Brock and I was officially bewildered. Was there actually hope for this movie? Well, the trailers looked awful and critics were crucifying it, so heading into my viewing of Venom I was expecting to to be absolutely terrible.
Honestly, I didn't like it much, but I have definitely seen worse. The first hour or so of Venom is brutally boring. We are introduced to Eddie Brock's world and watch as everything quickly crumbles around him. I actually thought three different people were going to tell him to "have a nice life" in a 10 minute span, but somehow the screenwriters resisted the urge to have Michelle Williams say it during their breakup scene. Basically, the first hour of the movie is a sequence of moments that you can already imagine Eddie Brock getting redemption for in the third act. It's very formulaic and not at all interesting.
Meanwhile, Riz Ahmed's character is a super rich science type that has acquired a bunch of symbiotes and he's trying to figure out how to unite them with a host so that he can… honestly, I don't remember what he's trying to do. He probably plans to sell them as some sort of super soldier.
The movie does pick up once the Venom symbiote finds Eddie Brock. It gets very slap-sticky and starts to feel like a buddy film and the humor elevates enough that it made me laugh a few times. Most importantly, the pace and action are picked up significantly.
I think Venom looks terrible in this movie. For 2018, the CGI is awful. Venom looks incredibly fake and the climax of the movie literally looks like two giant wads of silly putty doing battle with each other. It is absurdly terrible. The special effects in this movie are a total embarrassment.
Venom managed to exceed my expectations, only because they were very, very low. This is not a good movie. All the characters are stale and uninteresting, Eddie Brock isn't really someone you want to root for, and the performances are very uninspired. Tom Hardy is okay, I guess, but Michelle Williams' talent is totally wasted and I've seen Riz Ahmed in some great roles (Nightcrawler, "The Night Of"), but he is straight up laughable in this movie. You think these things might be salvaged a bit when Venom is on screen – and to some degree they are – but the Venom personality is actually kind of stupid and annoying. Plus he looks really cheesy.
But what do I know? This movie has a 7.1 rating on IMDB and an 88% audience score on Rotten Tomatoes, all while breaking October box office records. It's an absolute smash hit and the general public seems to really like it, so… maybe you will too.
Replay Value: The thought of sitting through the first hour again sounds painful, but I could do the second half.
Sequel Potential: It looks like this will reach $250 million domestically so a sequel is inevitable. I don't have much interest in Sony's superhero movies and their history doesn't suggest they are going to step their game up.
Oscar Potential: Zero.
Dina Meter: Dina might enjoy this more than I did, but I would be surprised if she watched it and said "that was good!"
3/10 (Bad)