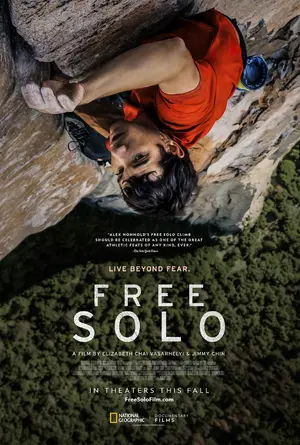 Free Solo (2018)
Director: Jimmy Chin and Elizabeth Chai Vasarhelyi (Meru)
Starring: Alex Honnold, Tommy Caldwell, Sanni McCandless, Jimmy Chin
Anticipation Level: High
How Was It? Amazing. If you're not familiar with what free soloing is, let me tell you: it is climbing mountains, cliffs, and massive rock walls without any safety harnesses or gear. Here's what happens when you make a mistake and fall while free soloing: you die. This documentary follows famed free soloist Alex Honnold as he attempts to become the first climber to free solo El Capitan, a 3000 foot wall of granite in Yosemite, California that looks impossible to climb with gear. Free Solo is mind-blowing in every sense of the word. It's unfathomable that people like Alex Honnold exist. What makes someone want to do something like this? What is it like to be in their inner circle? This documentary attempts to answer those questions, all while filming the breathtaking feat in action. It's an unbelievable film. Remarkable.
Replay Value: I would love to see it again.
Sequel Potential: It wouldn't surprise me if someone films Honnold's next big feat. It also wouldn't surprise me if someone films his death.
Oscar Potential: Free Solo is nominated for Best Documentary Feature and it's filmed so beautifully that you wonder if documentaries are eligible for categories like Best Cinematography.
Dina Meter: I'm not sure Dina could stomach this movie, but she should definitely watch it.
9/10 (Phenomenal)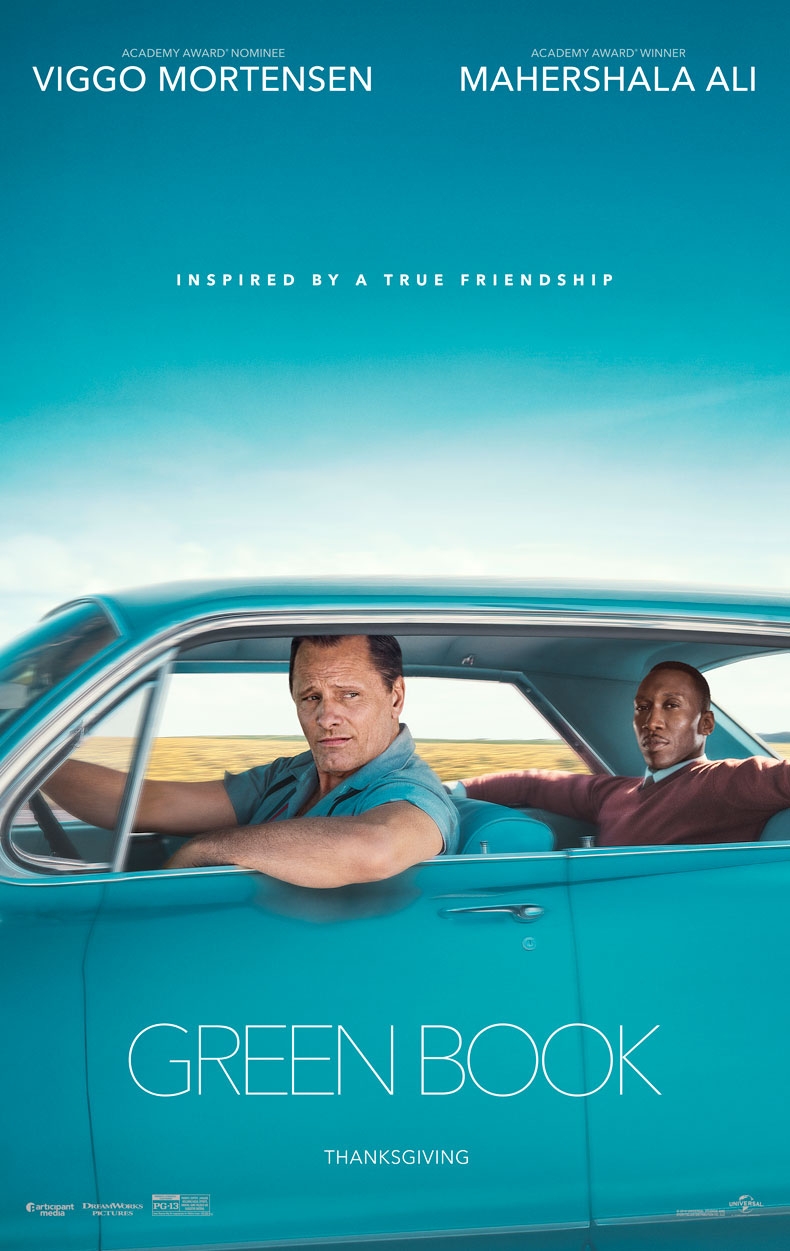 Green Book (2018)
Director: Peter Farrelly (There's Something About Mary, Dumb and Dumber, Kingpin, Shallow Hal
Starring: Viggo Mortensen, Mahershala Ali, Linda Cardellini
Anticipation Level: Strong
How Was It? I thoroughly enjoyed it and it was substantially funnier than I ever would have expected. Viggo Mortensen is a total blast in what might be my favorite performance from him. Green Book isn't the most powerful film about race relations, especially since it is set during a time when the liberation of black folk was still a fresh idea, but it still had some moving scenes (and some weird ones). However, whatever Green Book lacks in severity, it makes up for in light-hearted, feel good fun.
Replay Value: Might lose some of its hilarity with immediate repeat viewings, but should still be very enjoyable.
Sequel Potential: Based on a true story, so no.
Oscar Potential: Five Oscar nominations, including Best Picture, Best Original Screenplay, Film Editing, and acting nominations for Mortensen and Ali.
Dina Meter: I would be shocked if Dina didn't love it.
8/10 (Must See)
Hereditary (2018)
Director: Ari Aster
Starring: Toni Collette, Gabriel Byrne, Alex Wolff, Milly Shapiro
Anticipation Level: High
How Was It? This movie knocked my socks off – and shocked me. I really didn't think a movie – especially one labeled as a horror movie – could shock me, but Hereditary did exactly that. It's thrilling, scary, and the tension never lets up. Toni Collette is brilliant. If you're not into scary stuff, skip it, but if you are… if you ARE… it's an absolute must watch.
Replay Value: It's probably a tough watch for some, but I'm ready for round two.
Sequel Potential: Horror movies always have potential, but this should be a one and done movie.
Oscar Potential: None? Granted, I haven't seen all of the nominated performances for Best Actress, but Toni Collette may have been snubbed here.
Dina Meter: I forced Dina to watch It Follows, The Conjuring, and It, but I really don't think she'd make it through Hereditary.
8/10 (Must See)
Eighth Grade (2018)
Director: Bo Burnham
Starring: Elsie Fisher, Josh Hamilton
Anticipation Level: Strong
How Was It? It's hard to imagine a more accurate depiction of what it might be like to be a young teenage girl growing up in today's world. Or the single father of a teenage girl. This movie reaches new levels of awkwardness and, even though I'm a male that grew up two decades earlier, I still found it plenty relatable. Elsie Fisher is great in this movie… another fringe contender for Best Actress that didn't make the cut. I'm hesitant to recommend this movie because I doubt everyone will appreciate it, but I found it to be quite good.
Replay Value: Not a ton.
Sequel Potential: Very little.
Oscar Potential: Elsie Fisher got a Golden Globe nom, but no Oscar attention.
Dina Meter: I'm unsure if Dina would like this or not. It's pretty slow and a little weird, but maybe?
7/10 (Highly Enjoyable)
Summer of '84 (2018)
Director: Francois Simard, Anouk Whissell, Yoann-Karl Whissell (Turbo Kid)
Starring: Graham Verchere, Judah Lewis, Caleb Emery, Cory Gruter-Andrew, Teira Skovbye, Rich Sommer
Anticipation Level: Medium
How Was It? I liked it. How could I not? It's a movie set in the 1980s about a kid that thinks his neighbor might be a serial killer. Yes… right up my alley. I wonder how I would have reacted if there was an active serial killer in my town when I was growing up? Would I try to solve the mystery like these kids did? I really enjoyed the premise and feel of the movie, but some things didn't really ring true to me. Where was the parental supervision? I know it's the 1980s, but what are the chances parents would leave their teenage kids home alone when it is common knowledge there's a killer loose in the area that targets boys in that age range? Or letting them play flashlight tag after midnight? Plus, of course the parents trust their kids enough to let them be out all hours of the night, but not enough to believe anything they say. Also, I didn't love the casting in this movie… give me the cast of It or "Stranger Things" any day. But I'm just nitpicking… this movie was still pretty cool.
Replay Value: I'm a big horror fan and this one falls short of making the list of movies I'd want to own so I can watch them whenever I want.
Sequel Potential: I don't think a direct sequel would work well here, but this genre spawns unwarranted sequels unlike any other.
Oscar Potential: None.
Dina Meter: Dina isn't a big fan of scary movies and while this one isn't particularly scary, it's not really something I feel like she needs to see either.
6/10 (Recommended)
You Were Never Really Here (2018)
Director: Lynne Ramsay (We Need to Talk About Kevin)
Starring: Joaquin Phoenix
Anticipation Level: Low
How Was It? I couldn't wait for it to be over. I honestly had no idea what was going on and I stuck with it thinking things might get fleshed out, but I never understood anything that was happening. Maybe it's brilliant. You Were Never Really Here is at 89% on Rotten Tomatoes and an 84 on MetaCritic, so I can't help but feel like I'm missing something. I have a tendency to largely agree with the critics so it's nice when a movie like this comes along and proves that I actually do think for myself. This was one of the least enjoyable 2018 films I've seen.
Replay Value: One viewing was difficult enough.
Sequel Potential: Probably not.
Oscar Potential: No nominations.
Dina Meter: Dina would quit this movie in record time.
3/10 (Bad)
Note: I'm hesitant to call You Were Never Really Here a "bad" film because there is obviously something here that many people loved, but I didn't think it was "decent" (a 5/10) and even "forgettable" (a 4/10) doesn't quite embody my distaste for it. Let's just say I found it highly unenjoyable.