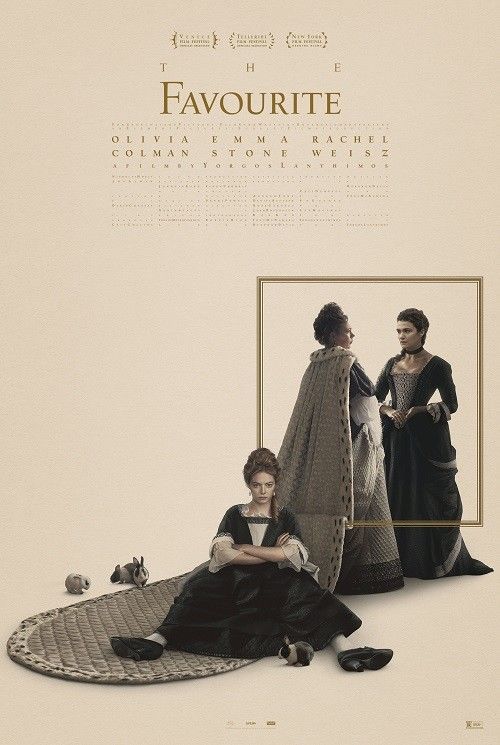 The Favourite (2018)
Director: Yorgos Lanthimos (The Lobster, The Killing of a Sacred Deer, Dogtooth)
Starring: Olivia Colman, Emma Stone, Rachel Weisz, Nicholas Hoult
Anticipation Level: Strong
How Was It? There were a lot of things done extremely well in The Favourite. First off, the acting from the three female leads was top notch. This is Emma Stone's earliest period piece and while she mostly blends in to the time period, she also adds the slightest tinge of modernity, a touch that I actually enjoyed. Even better is Rachel Weisz, someone I used to think of as a poor (wo)man's Kate Winslet, but director Yorgos Lanthimos seems to bring out the best in her, as she was also great in his last film The Lobster. Olivia Colman gives the film's best performance though, as she is utterly devastating as Queen Anne, and delivers the only challenge to Lady Gaga for Best Actress that I've seen so far.
The Favourite is also a rather beautiful film. The production design, costumes, hairstyle and makeup are all Oscar-worthy. And I loved the music. It is hard to ignore and really elevates the mood.
All that said, I thought The Favourite was a bit challenging and not necessarily in a good way. I liked it, but I didn't love it. While the tension between the three leads is easy enough to follow, I couldn't follow the politics happening outside the castle or their implications on the story and the last 15 minutes or so of the movie really lost me. When it ended, I was like, "wait… what?" I had to go online and read a plot synopsis to get it. And that did make me like it more. While I have no probably having to dig a little deeper to understand a film, I just can't pretend like The Favourite was an overwhelmingly pleasant experience for me. It's a high brow art house flick – which I'm not opposed to – but the 30% discrepancy between the critics score (94%) and the audiences score (65%) says a lot about how the general population feels about The Favourite. Lanthimos' The Lobster was way stranger, but also super creative and more entertaining to me.
I would still recommend The Favourite because it's extremely well made, has fantastic performances, and a good amount of entertainment value, but if you're predisposed to disliking period films, you can go ahead and skip this one. It certainly didn't blow me away.
Replay Value: Like Roma, when I like a movie substantially less than the critics, I'm open to giving it another watch to see if it grows on me.
Sequel Potential: None.
Oscar Potential: 10 Oscar nominations, including Best Picture, Best Director, and acting noms for all three actresses. In addition, The Favourite garnered nods for Original Screenplay, Production Design, Costume Design, Cinematography, and Film Editing. I'm partial to Black Panther, but I'll be surprised if The Favourite doesn't win Oscars for both Production and Costume Design. Also, I'm kind of shocked the film didn't get nominated for Best Score and Hairstyle and Makeup.
Dina Meter: I'm guessing this is a hard pass for Dina.
6/10 (Recommended)