May 2019 Week 2 Poker Wrap-Up
May 13, 2019
So in lieu of the live blogging, I took some notes during my sessions on the key pots I played so that I could possibly write about them later if I decided to do a review of my sessions.
Wednesday @ Palace
I went in a little early on Wednesday to get a few hours of 8/16 in before the PLO game started and only two hands really stuck out to me from the session, mostly because Part-Time continues to run insanely pure against me. I can't even imagine what he thinks about it all, but I picture him going to sleep and having dreams about playing pots against me because he seems to cooler me or get there any time we lock horns. It must feel like free money to him.
On the first hand, there are some limpers, he raises from the small blind and I defend with 33 from the big blind. The flop comes down T83 with two clubs and three of us end up putting in a raise on the flop with Part-Time the one capping the betting. The turn card is an ugly six of clubs, completing the flush draw and a 97 straight, so I'm pretty happy to not get raised after it checks to me and I bet. I still have two opponents when the river is a 7. I have Part-Time squarely on an overpair at this point and I'm picking up vibes from the other guy in the hand that he doesn't have a straight, so I go for some savage value here and only Part-Time calls. I table my set and then he tables a set of eights because obv.
The other hand of note, I raise with KT of spades under the gun and get 6-way action to a flop of QJJ with one spade. I decide to c-bet this flop and I get a call from the small blind before Part-Time check-raises from the big. He would play a jack this way, so I'm just looking to make the best hand now. I call and so does the small blind. The turn is the ace of spades, giving me the nut straight and a Royal Flush draw that will be worth over $10,000 if I can find a queen of spades on the river. Part-Time checks and I bet. I think the ace is a reasonable card to check-raise if you have a jack or better, so when he just calls it seems clear that I have the best hand. The other player folds. The river is a 4 and now Part-Time donks out.
What?
I basically always have the MUBS at this point when I play a pot with Part-Time and when I called on the flop, I was thinking about how I'm probably still going to lose if I make my hand and now here I am getting donked into on the river after being check-called on the turn. But since he called a raise from the big blind in a 6-way pot, he might have all the jacks in his range and that gives him way more combos of trip jacks than full houses and because of the board texture and the action, most of the hands that make boats are unlikely anyway. In fact, I think we can safely eliminate AA, QQ, JJ, and 44 from his range and when we do that, that leaves us with 72 combos of trip jacks and 18 combos of full houses. Even if we put some of the junkier offsuit jacks into his preflop folding range, he still clearly has trips here far more often than boats, especially considering how the turn action went. I didn't need to do all this combo counting at the table – it's pretty intuitive – to put in the raise, so I jacked it up and when he just calls I'm obviously never losing, but this is Part-Time vs Dark Knight so of course he turns over QJ here.
Result: -$18
PLO started at 6 PM and it was mostly uneventful for me. I gradually grinded to about +$400 before things started to sour. I managed to go on a four hour stretch without winning a single hand and bottomed out at -$600.
The first hand that started my downward trend I have K9xx in a limped pot from a blind, bet $20 on K92 rainbow, and my only caller is one of the McPoyle brothers from It's Always Sunny in Philadelphia: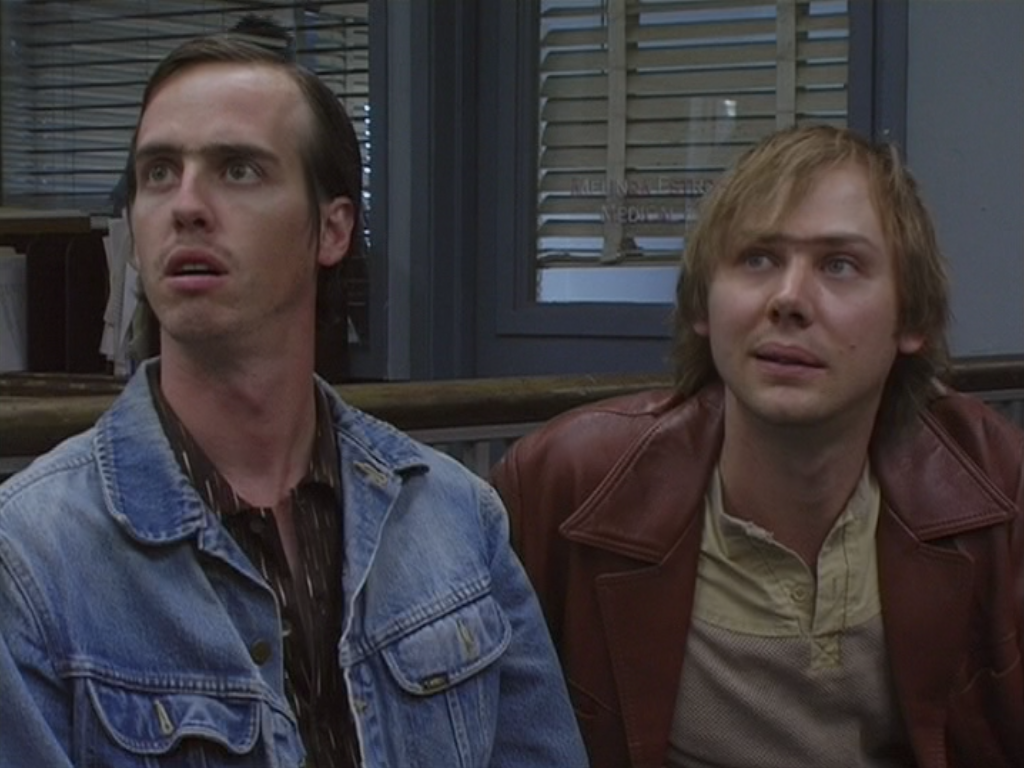 The turn is a 6 and when I lead $50, McPoyle makes it $165 and this spot sucks because I think he's capable of doing this with hands like K6 and maybe as bad as 62. In other words, he doesn't know what he's doing and if he has me beat here, I probably just have to pay it off. I call. The river is a ten and when we both check I assume I'm probably winning the pot, but he ends up showing a set of 9s.
I've put $1100 on the table and I only have about $370 of it left when I double through McPoyle while holding A665 with a suited ace in clubs and get it all in on a board of J74cc8 and hold even when the board pairs on the river.
Shortly after that, I get a rather large bluff through with KT97 on a board of QJ54 and get my opponent to lay down AA76 face up so I'm back to over $800 in my stack when this hand comes up:
It's a raised pot and I have 9766 with a suit on a board of T86 rainbow and wind up getting all $800 of it in against The Crypt Keeper on the flop. There's a third player also all-in, but he only has about $200 of it, so the side pot is way more important here. I have the nuts and bottom set for a redraw, but I'm not loving the spot. Crypt Keeper obviously has the nuts also and probably has a redraw with it and the other guy wanting to get his stack in is concerning as well. We run it once… the turn is an ace and the river is a queen and Crypt Keeper winds up scooping it all with J97x and felting me. The other player had 88 in his hand, so my scooping outs were actually pretty minimal, even for the side pot. That left me dusted and since the game was short-handed, not great, and it was almost 1 AM, I just called it a night.
Result: -$1082
Thursday @ Red Dragon
Ducky and I headed to Red Dragon to play some 20/40 Mix and I did something I don't think I've ever done before: I lost almost $1000 while waiting for the game I wanted to play in to start.
Let me preface this by saying that the PLO game at Red Dragon is borderline ridiculous. I'm not talking about the action in the game… I'm talking about the structure of it. It's a 1/3 game, so the blinds are $1 and $3, but it's $5 to come in just like at Palace, but in this game the maximum buy in is $300, so the most you can sit down with is effectively 60 big blinds. That's already really shallow, but in the game I was playing, almost everyone (myself excluded) was straddling to $10 on the button. This effectively reduces the maximum buy in to 30 big blinds and if a pot gets raised preflop, stacks are going in on the flop if anyone has a piece. I'm sure the game is still plenty beatable, but this structure definitely increases the short-term luck factor and probably drastically decreases a good player's edge overall.
First hand that cost me my stack, I have AKQT with a suit in a straddled pot and make it $40 to go. I get two callers and flop a king high flush draw on 972 with two spades. I pot the flop and get it in against both my opponents. That's obviously not good. One of them probably has the nut flush draw, so I'm likely in bad shape here. The turn pairs the 2 and the river is a 6, so I miss everything. One guy had the nut flush draw and made trip twos but the third player had 985x with no spades and his hand and scoops everything with a straight.
Second hand that cost me my stack, I make it $40 again with KKT9 with a suit and get two callers. I pot and get it in on Q83 rainbow and both players call. The turn pairs the 3 and the river is a 9. I'm up against AKKT and JT9x and the same player that stacked me in the first hand does it again by rivering another straight, even though I chop with a jack and three of his tens are blocked. Sigh.
My third time (nearly) getting stacked, it is not straddled, but there are three limpers, and I pot it with AKKT with a suited ace in clubs, and two players call. I bet 2/3 pot on AQ3 with two clubs and get one caller. We are super shallow after the flop betting, so I put him all in even though the turn pairs the queen and he has KQ53. So after thinking I kind of smashed the flop, I suddenly have one out to win this pot. It doesn't come.
I think I lose another smallish pot before deciding I'd rather sit around and wait for Mix to start than to keep felting buy ins in this PLO game.
Result: -$978
The players on the Mix Game list weren't willing to start short-handed so that's what led to my PLO debacle. I actually started playing PLO at 2:55 PM and we didn't start the Mix Game until 6:05 PM so it was a brutal (and painful) wait. In fact, I spent nearly an hour just sitting at an empty table.
But we did end up playing Mix and, goodness, I did not have a fun time. I spent most of the night losing every key pot I played and I think I bottomed out at -$1400 which certainly had me contending for my biggest overall loss in a single day.
We are playing 2-7 Triple Draw and an early position player opens, gets two callers, and I 3-bet from the small blind with 7652x, a pretty smooth one card draw to a seven. My opponents all call and wind up drawing 3, 2, and 2. I don't improve after the first draw and maybe that means I'm supposed to check here out of position against a field, but I bet and got raised by the 3-card draw and both other players called. I called also. The raiser patted behind me and the other guys drew two again. On the second draw, I spiked a 4, giving me the fourth best deuce hand you can make and I was able to check-raise the field. The other pat hand raised back, clearing the field, and I capped it. We both patted again and I bet the river and got raised. He's definitely saying he has the nuts or close to it, so I just call and sure enough he drew three to a wheel on the first draw. Pretty sick. It seems like I might have lost some unnecessary big bets here, but I'm not sure. If he made an 85, would he just call my check-raise and let the other guys keep drawing for one more bet? Would he just call with an 86? I'm not sure. I don't know the player at all. I wonder what I would do in his spot. It should be pretty intuitive that I had a good one card draw and when I check-raise the field after the second draw, I clearly made my hand… and he still raised me. Maybe I should just be calling down at that point, even with a seven?
I was running pretty unlucky in general by this point already, so that hand definitely left my ears ringing a bit, but it wouldn't even be the most frustrating pot I lost that night.
We are playing 2-7 Razz, someone completes with an 8 up in early position, another player calls, I make it $40 to go with 82-3, and a super splashy player calls $40 cold with a ten up. The 8 up calls, the other guy oddly folds, and the three of us head to fourth street. I catch a 7, the ten catches a 6, and the 8 gets a 4. I have the betting lead and the best board showing, so I bet, but it's worth noting that the 84 is usually drawing smoother than me at this point. They both call. On fifth, I pair the 7 and their boards are T66 and 84K. We all bricked, but the dude with the made king fires a bet and I'm tempted to raise here, but as I mentioned earlier, he probably has a better draw than me anyway, so I just call. So does the T66! I catch another 7 and the 84K catches an ace (the worst card in this game). The other guy must have caught another pair or a face card because the player with the made king fires another bet and we both call again. Yes, this hand is pure insanity. I can't wait to see how the dude with the T66J showing beats me in this hand. I get a 4 on my last card and make an 87432 and expect to be winning this pot most of the time now, but it's not such a monster that I'm going to raise when the 84KA fires another bet on 7th. I call and so does the other guy that I have board locked.
I have my earbuds in and the river bettor says something after we call. I thought he might have said he had an ace and that makes sense because he doesn't seem to want to turn over his cards. I wait him out a little longer and he's still not showing so when the other guy tables his hand, I show mine as well. Then, after successfully getting us both to show our hands out of turn, this dickbag reveals a made 86 and I couldn't help but blurt out, "why are you just now turning over that hand?" He said that he said he had an 8. Okay. Who gives a fuck what you said. Turn that shit over. We were both obviously sitting there waiting for him to do something. And then I end up showing because I don't want the other player to think I'm slow rolling him. Dude makes an 86 and just gets called in two spots and doesn't know it's basically the nuts?
Note: The only thing I actually said out loud was what I put in quotes, but I was definitely thinking all the rest and the fact that I was pissed about it wasn't exactly a secret. I mean… I'm already getting smashed in the game and now I'm being slow rolled in a massive pot? Ducky actually tried to defend this prick later, saying that he didn't think it was that bad of a slow roll and I'm like HUH? Okay, he said he had an 8? That's nice. Prove it maybe? If I heard him I would have said "me too" but I didn't, so after he says something and neither of us react, it's time to show the cards. Anything after that is egregious IMO.
I was honestly mad enough that I was tempted to call it a night, but after getting some fresh air, doing some breathing, and reminding myself there was a guy in there calling raises and reraises with a ten up in Razz games and literally giving money away, I was able to collect myself and make a nice recovery for the night.
Another 2-7 Razz example with the maniac: I raise with 54-3 and he calls me down on these runouts:
Me: 54-3723-x
Him: xx-7KT9-x
Bless his heart.
And one more hand just to show how it felt like the Poker Gods were conspiring against me on this night:
We are playing A-5 Triple Draw and I defend a raise with 642. All three of us draw two. I improve to a one card draw and decide to lead out and they both call. I draw one and they draw two again. I make a 6, bet and they both call. I pat and they draw two again (!). I bet and get a call, so I table my hand and that's when the dealer is like, "there's another draw left." During the third draw, the dealer had to shuffle the burns and the muck to complete the action. This leads to an extensive argument and literally not one person at the table is in agreement with me, so I'm sitting there replaying the action in my head, wondering if I'm the only person that can count to three. Even Ducky is chiming in saying he thinks there's another draw when he wasn't even paying attention to the damn hand. What a good friend! Finally the dealer asks me if I want him to call the floor over and I just say no and let this dude draw for a fourth time against me while my hand is face up, figuring that if he missed, we can just move on. Fortunately, he did miss, but if he didn't… yeah, we're going to take a look at those cameras.
Result: -$352
Friday @ Palace
First hand of the day I 3-bet with AK and get a K97 rainbow flop against Master Splinter and Part-Time. We are in Overs and they both call. The turn is a blank and I get check-raised by Splinter. I call him down and there will be no Coast-To-Coast for me because he has a set of sevens.
And that sets the tone for my whole session. I won some raise-and-take-its and some raise-and-c-bet pots, but they were few and far between and I didn't win my first showdown for 3+ hours. And then I won three straight. I think I bottomed out at -$1200 but rallied all the way back to nearly even before shit hit the fan all over again and I found myself all the way back down to -$1400.
Fortunately, I heated up towards the end of the night when the game got short.
Result: -$360
Saturday @ Palace
I actually got off to a decent +$500 start on Saturday, but it was short-lived. I had a lot of medium and big pairs and I can only remember winning with one of them. I'm talking like 1 for 15 with TT+. I had some hand examples from this session, but they are basically just bad beat stories and I'm ready to wrap this post up.
Probably the most notable thing that happened in this session was that we had a full game with three on the list when a big pot happened where FanGirl lost with trips to a flush on the river. After losing that pot, she didn't take her big blind and quit the game. FanBoy announced that he was out too. Then Huey says he doesn't want the big blind either. The next player takes his stub of chips and leaves the table. I post the big blind, but the player in seat 7 is frustrated, shaking his head, and decides to quit too. Just like that, five players have vanished. The floors have no clue about the crisis happening on our table, so they are taking their sweet time trying to fill the one seat they think we have open and I watch in horror as the first two players on the list end up passing on the game. I was willing to keep playing, even as short as 3-handed, but needless to say, we never got dealt another hand. How does that happen? Full game with three on list to a broken game in the span of a single hand. Absolutely sick.
Result: -$458
One of my good friends walked into the casino and I decided to hang out for a few extra hours and play some 4/8 with him. I ended up hitting quad fours for a $152 jackpot. And then I committed a white chip sin and took my opponents to Value Town on the river because that extra $16 I win in a jackpot hand is $16 that can pay for my Apple Music membership this month. It all adds up and I'm not one that thinks it is okay to draw arbitrary lines of decency when it comes to betting or checking bonuses. I've actually seen people bark at someone for betting a potential high hand on the river against them. Like dude… that might not even hold up. Let's all calm down and play poker.
Result: +$88
Yup. That was a miserable week. What went right? Anything? I got off to decent starts in PLO on Wednesday and 15/30 on Saturday, but I spent almost my entire week losing my ass in every session I played. I mounted some comebacks and limited the damage a little bit, but this was one of the most trying weeks of cash game poker I've ever played.
When I said I wanted to change things up on my blog, I'm not sure this is what I had in mind. This took way longer to write than I was hoping for. But then again, I guess I had some abnormal stories. On the bright side, I got my volume way up.
Final Results: -$2956 in 44.25 hours
One comment